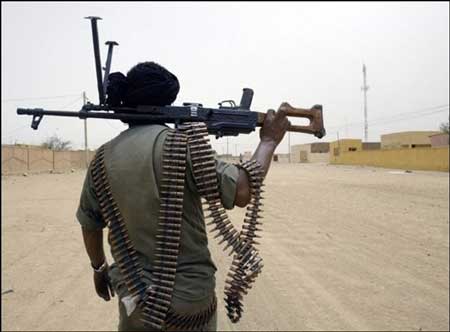 Malian helicopter gunships bombed rebel positions near the key northern town of Kidal on Friday, a military official said, hours after former colonial power France called for a ceasefire and immediate talks to end a three-week rebel offensive.
France, which remains an ally of its former colonies, backed Bamako's stance against the rebels' claim for an independent north. In a further sign of disruption caused by clashes, the United States delayed its annual counter-terrorism training for its allies in the Sahara region.
Dozens of people have been reported killed on both sides and tens of thousands of civilians have been forced from their homes since the MNLA rebels, boosted by weapons and men from Libya, started attacking towns and military outposts in mid-January.
Last weekend, rebels had come within eight kilometres (5 miles) of Kidal, the capital of one of three northern regions they are targeting. But a Malian military official said they have since been pushed back by helicopter gunships, as well as heavy weapons fire by the armed forces.
"Five of our helicopters have been bombing the rebels ... to take out the attackers," the official said, adding that raids had taken place about 15 km from the town.
A second military source said: "We are not waiting for them to attack us anymore. Now it is us going on the offensive."
No toll was available from the military.
A rebel spokesman said he was not aware of any assaults on Friday. He said Malian military helicopters had tried to attack them on Wednesday and Thursday but there were no injuries.
Mali's military has the advantage of air power over the rebels but the MNLA pose the most robust threat yet to Bamako, even if they are not seen having the might to carve out an independent state in the north.
Speaking during a visit to Bamako on Thursday, Henri de Raincourt, France's minister for cooperation, said Paris rejected any idea of part of Mali splitting off but he repeated France's call for dialogue not force to end the conflict.
"There cannot be a military solution: we call for an immediate ceasefire and we will condemn, whenever necessary, the use of force," he said in statement.
"We call for dialogue to find a sustainable political solution to the social, economic and security problems that the north of the country is faced with," he added. Local media has accused France of bias in favour of the Tuareg rebels.
There are fears the rebellion has disrupted efforts to improve regional cooperation and diverted Mali's military resources from tackling the threat posed by al Qaeda's North Africa wing, AQIM, which operates in the area.
Underlining simmering tensions between nations in the region, the president of Mauritania, said neighbouring Mali's north had practically become a "free zone" for terrorists and called for countries to take concrete steps to tackle the group.
"We are talking about a small enemy (in AQIM) of no more than 300 men. That should be within the capabilities of any country," President Mohamed Ould Abdel Aziz told France's Le Monde newspaper on Friday.
The U.S. embassy in Bamako said on Friday Flintlock 2012, its counter-terrorism exercise bringing together African and Western nations and was due to start later this month and run through March, had been delayed while Mali tackled the rebels.
"Mali's participation in Flintlock 2012 is critical to its success and we understand the need to focus necessary efforts on maintaining its security," said U.S. Ambassador to Mali Mary Beth Leonard. No details were given for when the training would take place.